We fabricate and repair various types of rolls and shafts for a range of applications. The majority of our work with shafts and rolls comes from food processing machinery and industrial material moving equipment.
One type of rolls that we service are called sizer rolls, or conditioning rolls. They form bulk semi-solid product into sheets as it is fed between two of the rotating shafts. Carbon steel pipe comprises the core of these rolls, which may vary in diameter and length.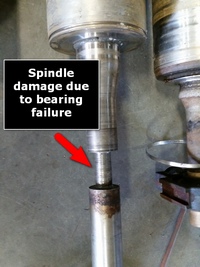 Our machinist fabricators make and fit the ends with lathe-turned, stainless steel stub shafts with precision fabricated spindles for bearing mounts. We then cut keyways into the spindles for securing drive gears or sprockets. Custom-formed, stainless steel cladding encases the body of these rolls, which our fabricators weld at the seams and to the stub shafts. This creates a complete seal for sanitary food grade applications. All welds along the roll facing are ground smooth to meet product tolerances.
Here at Specialty Welding, Inc. we also refurbish and fabricate many other types of equipment components that include shafts and spindles. A broad spectrum of commercial and industrial operations employ material moving equipment for bulk product handling, such as manufacturers, processors, mining operations, grain storage and packaging, to name a few. We are equipped to repair nearly any type of conveyor components that can either be shipped to our facility or are located within our field services region.
Auger conveyors are another type of shaft-based equipment used in several industries. These move materials such as steel shot, grains, various food products, ores, ash, seeds, fertilizer…the list is extensive. Augers are effective for moving flakes, powders, granular products, liquids and much more.
Most of our auger conveyor refurbishment work involves worn out flights and damaged spindles. We fabricate replacement flights by cutting sections on our CAD operated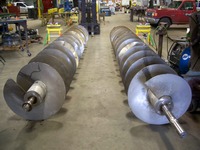 waterjet or plasma cutting table, then welding them together to form the helical blade. After repairing any damage to the shaft surface, our fabricators stretch the blade to correct flight spacing and weld it to the shaft. Worn or damaged stub shafts are removed from the ends and replaced. These are similar to those used in conditioning rolls.
We can repair or fabricate new auger conveyors in all shapes and sizes, made from any type of metal. Our customers may either ship their damaged augers for repair, or send us specifications and we will fabricate replacements. We may quote lump sum pricing or charge for shop time and materials, depending on the nature and extent of work required.
Call us at (509) 765-4161 or send your request to ContactUs@specialtywelding.net to see how we can help with repairing or replacing your rolls and equipment shafts.