Industrial piping systems can be found in power generating stations, industrial and institutional plants, in chemical, food, pharmaceutical, textile, paper, semiconductor and cryogenic plants, and related processing facilities and terminals. Since 1986, Specialty Welding, Inc. has provided pipe fabrication, installation and repair services for manufacturing and processing plants in Eastern Washington. Most of our customers are repeat-business clients who consider
SWI a preferred resource. Each year they rely on us for modifications, maintenance or repairs to piping and other mechanical systems. Our customers include farms and dairies, chemical producers, food processors and industrial manufacturers.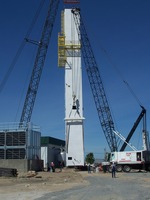 The piping system shown to the left is part of a project completed by SWI for Norco, in Moses Lake. This cryogenic fluids system is a key part of their gas separation plant, which produces oxygen, nitrogen and argon from ambient air. This plant provides gases used by industrial and commercial customers in eastern Washington.
Another major component of this facility, called a Cold Box, is shown to the right as it was being erected by Specialty Welding, Inc. Below is a photo of the 125' unit being fabricated horizontally in our shop.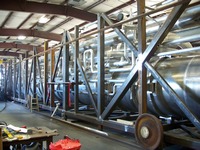 For more information about the unique methods used in fabricating and constructing this project,
click here
. Do you need a pdf viewer? Get it here for free:
Adobe Acrobat Reader
.
Our work with piping systems includes both fabrication and installation. We are authorized by the American Society of Mechanical Engineers for code work as detailed in ASME Codes for Pressure Piping B31.1 and B31.3. We also handle non-code piping systems, working to the applicable levels of quality control as specified by engineering. Our ASME R-Stamp authorizes us to perform repairs, alterations and installation of pressure vessels. They include boilers, pressurized process vessels, heat exchangers and storage tanks.
Click here
for more information about our pressure vessel work.
The next two pictures shown below were taken during a heat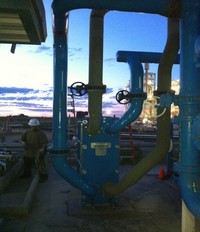 exchanger installation project for Air Liquide at REC Silicon's production facility in Moses Lake. Air Liquide produces hydrogen for REC Silicon, with multiple on-site production units, which supply separate processing units within the facility. Our company has performed dozens of pipe installations and repair projects over the years for Air Liquide at this site.
Generally, changes to piping systems can be brought about by various causes, such as changes in production requirements, construction of plant expansions or the occurrence of system failures. In the event that leaks or degradation of materials are found, piping may be replaced, or upgraded to different configurations, materials, supports or other features.
We are accustomed to working in active plants where tough safety procedures are required. Lockout-Tagout and Confined Space Entry procedures are good examples. Where the risk of exposure to hazardous substances exists, personal protective equipment and work area control procedures may be implemented. Our crews are trained and qualified to handle the hazardous and difficult work for which most contractors just aren't qualified. We have extensive experience in a variety of industrial processing environments.
Our certification with
ISNetworld
speaks volumes about the safe, professional manner in which we manage and execute our work. We understand the importance of
keeping your plant in optimal production, and we know what to expect when performing repair and maintenance services for maufacturing and processing facilities. More so than with commercial construction, industrial work must be tightly controlled. Specialty Welding, Inc. provides a high level of quality to the table. We are committed to the safe and timely completion of every project.
Specialty Welding, Inc.'s fleet of company-owned equipment includes boom trucks, carry-deck cranes, forklifts and manlifts, plus a host of other equipment and tools. We seldom need to wait for rental equipment to become available. That can result in faster mobilization for emergency repairs. In the event of an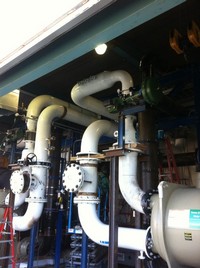 unexpected problem at your plant, we will do our best to provide quick-response emergency crews to begin repairs. If necessary, we can provide a multiple-shift work force to accelerate completion of the work.
If you are planning changes, or your plant piping systems are in need of repairs, please
contact us
in advance, if possible. Adequate lead time enables us to do a better job. Advance planning and access to complete technical information always makes a project run more smoothly. Our goal is to provide optimal performance with minimal problems or delays. Leave the tough piping jobs to us. Contact Specialty Welding, Inc. for your upcoming plant piping changes, repairs and upgrades. You may send project information to us using this link:
ContactUs@SpecialtyWelding.net
. If the file size exceeds 25mb, send us a request and we'll provide a direct upload link. We can be reached by phone at 509-765-4161. For a complete list of contact information,
click here